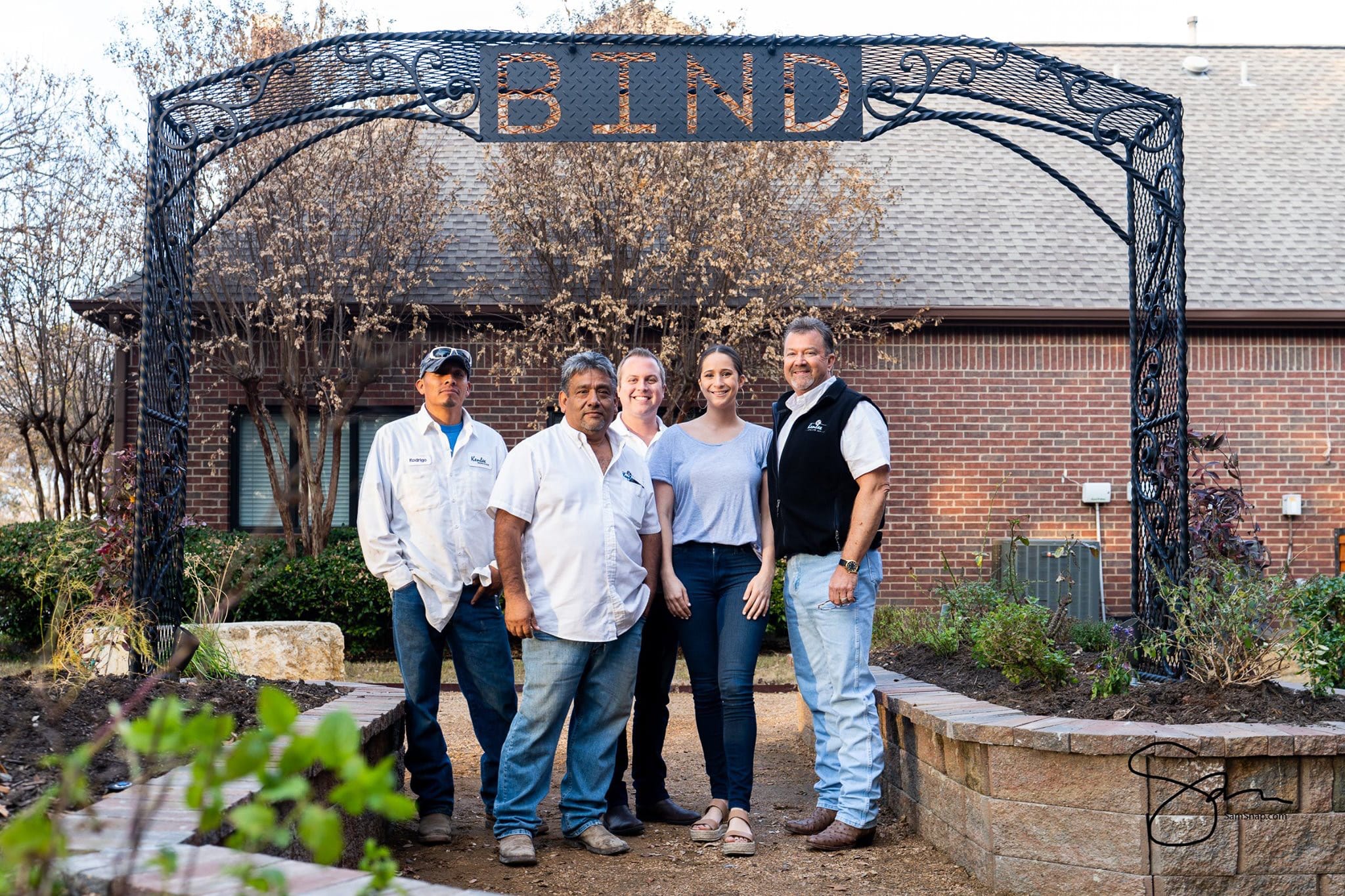 Project brief
Every construction project is unique in its own way, but through the process of building the BIND therapeutic garden, it took on a deeper and more personal meaning. Creating this type of experience is what makes our job worth wild.
The BIND organization had an open grass area that served no functional purpose or had any aesthetic value. Before the construction process could begin, we had to inspect the area to prepare for the garden's setup and layout. Firstly, the site had to be regraded for positive surface drainage flow. Then the automatic irrigation system was designed and installed to fit the garden's needs. The planters serve as a work area that allows each member to plant and care for herbs, perennials, and vegetables. The planters were designed to accommodate ADA requirements and provide easy access for all. Of course, we had to add our own touch by providing accent lighting and a custom arched iron trellis that connects the two planters, which displays their name.
Lastly, to create a more private experience, we added a complementary landscape to create a green buffer zone around the edge. The garden also features a seating area using natural stone. We built a wrought iron/cedar fence that features a designated wash station on the side of the building. For the complete experience, please review the before and after pictures below.
[{"beforeImage":{"src":"https:\/\/www.kenleeservices.com\/wp-content\/uploads\/2020\/09\/IMG_4247-web-e1612373422575.jpg","srcset":"https:\/\/www.kenleeservices.com\/wp-content\/uploads\/2020\/09\/IMG_4247-web-e1612373422575.jpg 1200w, https:\/\/www.kenleeservices.com\/wp-content\/uploads\/2020\/09\/IMG_4247-web-e1612373422575-300x161.jpg 300w, https:\/\/www.kenleeservices.com\/wp-content\/uploads\/2020\/09\/IMG_4247-web-e1612373422575-1024x548.jpg 1024w, https:\/\/www.kenleeservices.com\/wp-content\/uploads\/2020\/09\/IMG_4247-web-e1612373422575-150x80.jpg 150w, https:\/\/www.kenleeservices.com\/wp-content\/uploads\/2020\/09\/IMG_4247-web-e1612373422575-768x411.jpg 768w"},"afterImage":{"src":"https:\/\/www.kenleeservices.com\/wp-content\/uploads\/2020\/10\/bind-project-2-web.jpg","srcset":"https:\/\/www.kenleeservices.com\/wp-content\/uploads\/2020\/10\/bind-project-2-web.jpg 1500w, https:\/\/www.kenleeservices.com\/wp-content\/uploads\/2020\/10\/bind-project-2-web-300x200.jpg 300w, https:\/\/www.kenleeservices.com\/wp-content\/uploads\/2020\/10\/bind-project-2-web-1024x683.jpg 1024w, https:\/\/www.kenleeservices.com\/wp-content\/uploads\/2020\/10\/bind-project-2-web-768x512.jpg 768w"}},{"beforeImage":{"src":"https:\/\/www.kenleeservices.com\/wp-content\/uploads\/2020\/07\/IMG_4780-bind-scaled.jpg","srcset":"https:\/\/www.kenleeservices.com\/wp-content\/uploads\/2020\/07\/IMG_4780-bind-scaled.jpg 2560w, https:\/\/www.kenleeservices.com\/wp-content\/uploads\/2020\/07\/IMG_4780-bind-300x225.jpg 300w, https:\/\/www.kenleeservices.com\/wp-content\/uploads\/2020\/07\/IMG_4780-bind-1024x768.jpg 1024w, https:\/\/www.kenleeservices.com\/wp-content\/uploads\/2020\/07\/IMG_4780-bind-768x576.jpg 768w, https:\/\/www.kenleeservices.com\/wp-content\/uploads\/2020\/07\/IMG_4780-bind-1536x1152.jpg 1536w, https:\/\/www.kenleeservices.com\/wp-content\/uploads\/2020\/07\/IMG_4780-bind-2048x1536.jpg 2048w"},"afterImage":{"src":"https:\/\/www.kenleeservices.com\/wp-content\/uploads\/2020\/07\/7920-bind.jpg","srcset":"https:\/\/www.kenleeservices.com\/wp-content\/uploads\/2020\/07\/7920-bind.jpg 2048w, https:\/\/www.kenleeservices.com\/wp-content\/uploads\/2020\/07\/7920-bind-300x200.jpg 300w, https:\/\/www.kenleeservices.com\/wp-content\/uploads\/2020\/07\/7920-bind-1024x683.jpg 1024w, https:\/\/www.kenleeservices.com\/wp-content\/uploads\/2020\/07\/7920-bind-768x512.jpg 768w, https:\/\/www.kenleeservices.com\/wp-content\/uploads\/2020\/07\/7920-bind-1536x1024.jpg 1536w"}}]
" Oxley Leasing has only been a client of Kenlee Services for a few years, but it has been a refreshing experience having a vendor we can count on. Always responsive, available immediately, and the quality is fantastic. My Commercial Buildings look great, and we get compliments on our landscaping on a regular basis. All of their employees are friendly and courteous. I cannot say enough good things about this company and their team. We are forever grateful that we made the change, and it worked out better than we ever expected. Thank you Kenlee!!!!!!!!!!!!!"
Stephanie Pecot, Oxley Leasing