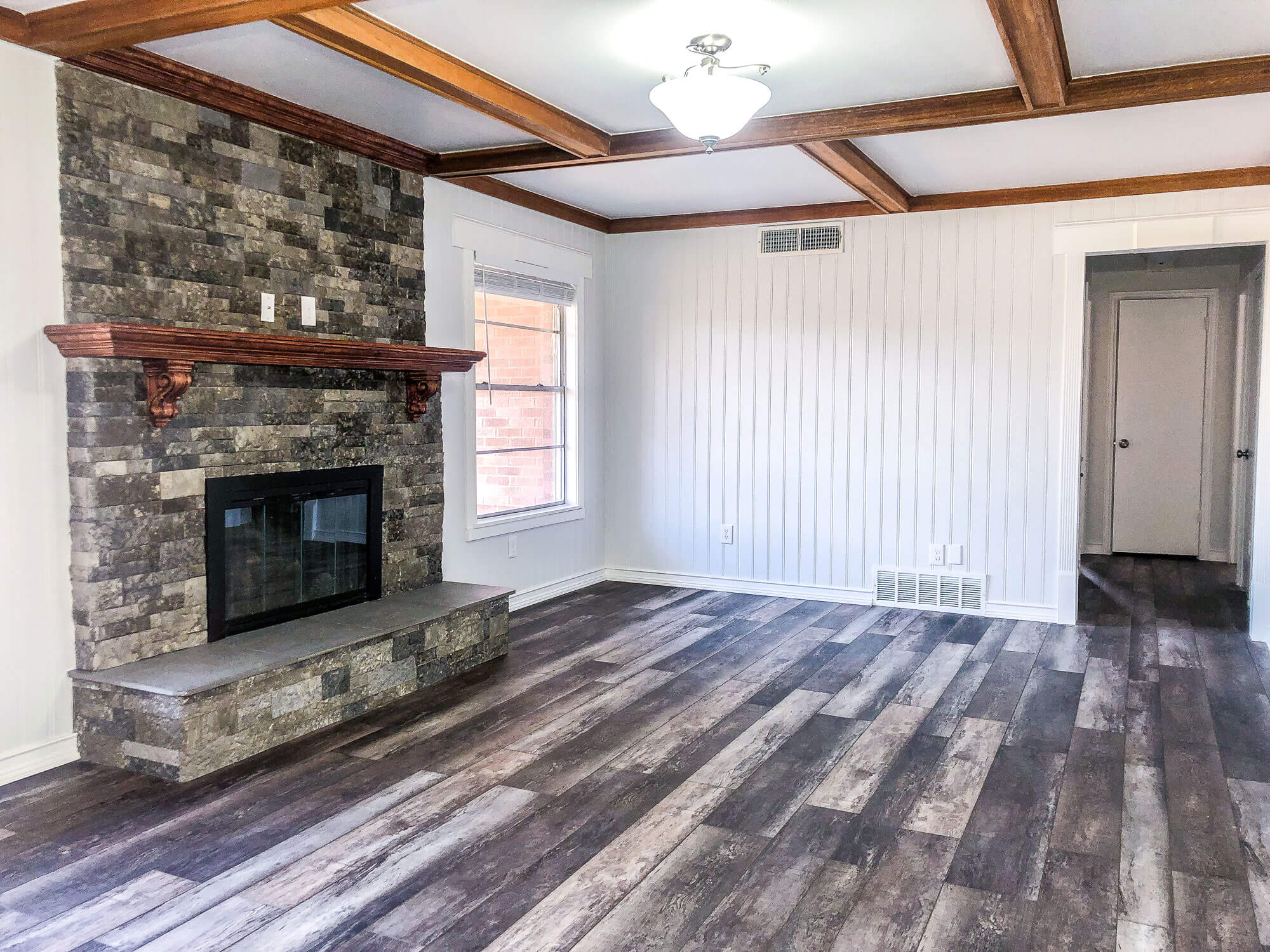 Project brief
In the fall of 2018, we met with the owner of an old classic townhome in the heart of Highland Park. He came to us with the desire to update the interior to meet modern standards.
During the design and planning process, Kenlee recommended having an open floor plan to increase the functional flow and usage. To achieve this goal, we used lighter backgrounds with bolder accents. The initial process started with the demolition of the entire area, including raising the ceilings in several rooms and removing walls to open the floor plan. Since all the wiring, plumbing, and ductwork were from the original 1950s construction, we knew this was mandatory for us to update as well. To keep our functional intent, we increased all closets and utility spaces.
Lastly, one of our favorite parts of the projects is involving the client more to get their color and material selection preference. The client wanted to apply modern design while keeping the classic feel. For the complete experience, please review the before and after pictures below.
[{"beforeImage":{"src":"https:\/\/www.kenleeservices.com\/wp-content\/uploads\/2020\/07\/3CE7FBA8-950F-404B-AD03-DA368DDF6FA5_1_105_c.jpg","srcset":"https:\/\/www.kenleeservices.com\/wp-content\/uploads\/2020\/07\/3CE7FBA8-950F-404B-AD03-DA368DDF6FA5_1_105_c.jpg 1086w, https:\/\/www.kenleeservices.com\/wp-content\/uploads\/2020\/07\/3CE7FBA8-950F-404B-AD03-DA368DDF6FA5_1_105_c-300x200.jpg 300w, https:\/\/www.kenleeservices.com\/wp-content\/uploads\/2020\/07\/3CE7FBA8-950F-404B-AD03-DA368DDF6FA5_1_105_c-1024x683.jpg 1024w, https:\/\/www.kenleeservices.com\/wp-content\/uploads\/2020\/07\/3CE7FBA8-950F-404B-AD03-DA368DDF6FA5_1_105_c-768x512.jpg 768w"},"afterImage":{"src":"https:\/\/www.kenleeservices.com\/wp-content\/uploads\/2020\/07\/IMG_8417-scaled.jpg","srcset":"https:\/\/www.kenleeservices.com\/wp-content\/uploads\/2020\/07\/IMG_8417-scaled.jpg 2560w, https:\/\/www.kenleeservices.com\/wp-content\/uploads\/2020\/07\/IMG_8417-300x225.jpg 300w, https:\/\/www.kenleeservices.com\/wp-content\/uploads\/2020\/07\/IMG_8417-1024x768.jpg 1024w, https:\/\/www.kenleeservices.com\/wp-content\/uploads\/2020\/07\/IMG_8417-768x576.jpg 768w, https:\/\/www.kenleeservices.com\/wp-content\/uploads\/2020\/07\/IMG_8417-1536x1152.jpg 1536w, https:\/\/www.kenleeservices.com\/wp-content\/uploads\/2020\/07\/IMG_8417-2048x1536.jpg 2048w"}},{"beforeImage":{"src":"https:\/\/www.kenleeservices.com\/wp-content\/uploads\/2020\/07\/A580D976-9F93-4555-83CF-04D7079D13C0_1_105_c.jpg","srcset":"https:\/\/www.kenleeservices.com\/wp-content\/uploads\/2020\/07\/A580D976-9F93-4555-83CF-04D7079D13C0_1_105_c.jpg 1086w, https:\/\/www.kenleeservices.com\/wp-content\/uploads\/2020\/07\/A580D976-9F93-4555-83CF-04D7079D13C0_1_105_c-300x200.jpg 300w, https:\/\/www.kenleeservices.com\/wp-content\/uploads\/2020\/07\/A580D976-9F93-4555-83CF-04D7079D13C0_1_105_c-1024x683.jpg 1024w, https:\/\/www.kenleeservices.com\/wp-content\/uploads\/2020\/07\/A580D976-9F93-4555-83CF-04D7079D13C0_1_105_c-768x512.jpg 768w"},"afterImage":{"src":"https:\/\/www.kenleeservices.com\/wp-content\/uploads\/2020\/07\/IMG_8436-scaled.jpg","srcset":"https:\/\/www.kenleeservices.com\/wp-content\/uploads\/2020\/07\/IMG_8436-scaled.jpg 2560w, https:\/\/www.kenleeservices.com\/wp-content\/uploads\/2020\/07\/IMG_8436-300x225.jpg 300w, https:\/\/www.kenleeservices.com\/wp-content\/uploads\/2020\/07\/IMG_8436-1024x768.jpg 1024w, https:\/\/www.kenleeservices.com\/wp-content\/uploads\/2020\/07\/IMG_8436-768x576.jpg 768w, https:\/\/www.kenleeservices.com\/wp-content\/uploads\/2020\/07\/IMG_8436-1536x1152.jpg 1536w, https:\/\/www.kenleeservices.com\/wp-content\/uploads\/2020\/07\/IMG_8436-2048x1536.jpg 2048w"}},{"beforeImage":{"src":"https:\/\/www.kenleeservices.com\/wp-content\/uploads\/2020\/07\/038FD904-EAB9-4D36-A8CC-9BD3BB0736F6_1_105_c.jpg","srcset":"https:\/\/www.kenleeservices.com\/wp-content\/uploads\/2020\/07\/038FD904-EAB9-4D36-A8CC-9BD3BB0736F6_1_105_c.jpg 1086w, https:\/\/www.kenleeservices.com\/wp-content\/uploads\/2020\/07\/038FD904-EAB9-4D36-A8CC-9BD3BB0736F6_1_105_c-300x200.jpg 300w, https:\/\/www.kenleeservices.com\/wp-content\/uploads\/2020\/07\/038FD904-EAB9-4D36-A8CC-9BD3BB0736F6_1_105_c-1024x683.jpg 1024w, https:\/\/www.kenleeservices.com\/wp-content\/uploads\/2020\/07\/038FD904-EAB9-4D36-A8CC-9BD3BB0736F6_1_105_c-768x512.jpg 768w"},"afterImage":{"src":"https:\/\/www.kenleeservices.com\/wp-content\/uploads\/2020\/07\/IMG_8494-scaled.jpg","srcset":"https:\/\/www.kenleeservices.com\/wp-content\/uploads\/2020\/07\/IMG_8494-scaled.jpg 2560w, https:\/\/www.kenleeservices.com\/wp-content\/uploads\/2020\/07\/IMG_8494-300x225.jpg 300w, https:\/\/www.kenleeservices.com\/wp-content\/uploads\/2020\/07\/IMG_8494-1024x768.jpg 1024w, https:\/\/www.kenleeservices.com\/wp-content\/uploads\/2020\/07\/IMG_8494-768x576.jpg 768w, https:\/\/www.kenleeservices.com\/wp-content\/uploads\/2020\/07\/IMG_8494-1536x1152.jpg 1536w, https:\/\/www.kenleeservices.com\/wp-content\/uploads\/2020\/07\/IMG_8494-2048x1536.jpg 2048w"}},{"beforeImage":{"src":"https:\/\/www.kenleeservices.com\/wp-content\/uploads\/2020\/07\/A9A7DE99-79D4-4A7A-9408-35D2D7F3D8C8_1_105_c.jpg","srcset":"https:\/\/www.kenleeservices.com\/wp-content\/uploads\/2020\/07\/A9A7DE99-79D4-4A7A-9408-35D2D7F3D8C8_1_105_c.jpg 1086w, https:\/\/www.kenleeservices.com\/wp-content\/uploads\/2020\/07\/A9A7DE99-79D4-4A7A-9408-35D2D7F3D8C8_1_105_c-300x200.jpg 300w, https:\/\/www.kenleeservices.com\/wp-content\/uploads\/2020\/07\/A9A7DE99-79D4-4A7A-9408-35D2D7F3D8C8_1_105_c-1024x683.jpg 1024w, https:\/\/www.kenleeservices.com\/wp-content\/uploads\/2020\/07\/A9A7DE99-79D4-4A7A-9408-35D2D7F3D8C8_1_105_c-768x512.jpg 768w"},"afterImage":{"src":"https:\/\/www.kenleeservices.com\/wp-content\/uploads\/2020\/07\/IMG_7737-scaled.jpg","srcset":"https:\/\/www.kenleeservices.com\/wp-content\/uploads\/2020\/07\/IMG_7737-scaled.jpg 1920w, https:\/\/www.kenleeservices.com\/wp-content\/uploads\/2020\/07\/IMG_7737-225x300.jpg 225w, https:\/\/www.kenleeservices.com\/wp-content\/uploads\/2020\/07\/IMG_7737-768x1024.jpg 768w, https:\/\/www.kenleeservices.com\/wp-content\/uploads\/2020\/07\/IMG_7737-1152x1536.jpg 1152w, https:\/\/www.kenleeservices.com\/wp-content\/uploads\/2020\/07\/IMG_7737-1536x2048.jpg 1536w"}}]