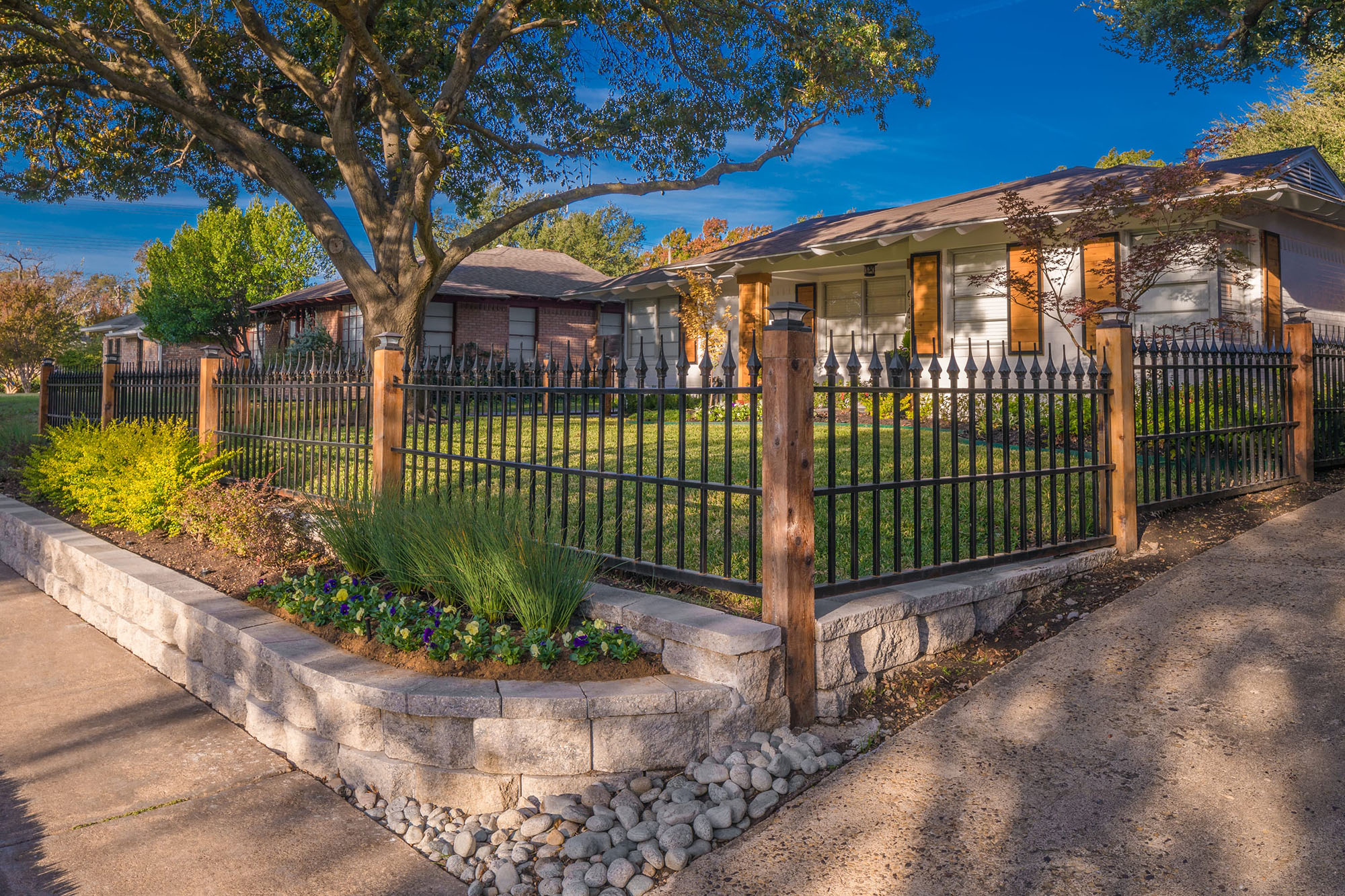 Project brief
The year 2020 brought on many surprises. Thankfully, one of those surprises was a positive one for us; another opportunity to transform a traditional, outdated home into an updated 'one-of-a-kind.'
One of our favorite things to do is to take the old and make it new. This process creates unique challenges that you don't necessarily get with building a new home. Our initial excitement is always the same. There is nothing like walking into a fixer-upper, seeing its potential while still appreciating the home's original character.
At Kenlee, we make it our goal to keep the house's original roots' integrity during the updating process.
We repaired foundational issues, painted the exterior and interior, moved walls to make better use of the space, updated the landscaping, the kitchen, and the flooring, to name a few things. See below for before and after pictures.
[{"beforeImage":{"src":"https:\/\/www.kenleeservices.com\/wp-content\/uploads\/2020\/07\/IMG_9695-web.jpg","srcset":"https:\/\/www.kenleeservices.com\/wp-content\/uploads\/2020\/07\/IMG_9695-web.jpg 2000w, https:\/\/www.kenleeservices.com\/wp-content\/uploads\/2020\/07\/IMG_9695-web-300x225.jpg 300w, https:\/\/www.kenleeservices.com\/wp-content\/uploads\/2020\/07\/IMG_9695-web-1024x768.jpg 1024w, https:\/\/www.kenleeservices.com\/wp-content\/uploads\/2020\/07\/IMG_9695-web-150x113.jpg 150w, https:\/\/www.kenleeservices.com\/wp-content\/uploads\/2020\/07\/IMG_9695-web-768x576.jpg 768w, https:\/\/www.kenleeservices.com\/wp-content\/uploads\/2020\/07\/IMG_9695-web-1536x1152.jpg 1536w"},"afterImage":{"src":"https:\/\/www.kenleeservices.com\/wp-content\/uploads\/2020\/07\/Kenlee_Services_Round2_Edit-2-scaled.jpg","srcset":"https:\/\/www.kenleeservices.com\/wp-content\/uploads\/2020\/07\/Kenlee_Services_Round2_Edit-2-scaled.jpg 2560w, https:\/\/www.kenleeservices.com\/wp-content\/uploads\/2020\/07\/Kenlee_Services_Round2_Edit-2-300x124.jpg 300w, https:\/\/www.kenleeservices.com\/wp-content\/uploads\/2020\/07\/Kenlee_Services_Round2_Edit-2-1024x422.jpg 1024w, https:\/\/www.kenleeservices.com\/wp-content\/uploads\/2020\/07\/Kenlee_Services_Round2_Edit-2-150x62.jpg 150w, https:\/\/www.kenleeservices.com\/wp-content\/uploads\/2020\/07\/Kenlee_Services_Round2_Edit-2-768x317.jpg 768w, https:\/\/www.kenleeservices.com\/wp-content\/uploads\/2020\/07\/Kenlee_Services_Round2_Edit-2-1536x633.jpg 1536w, https:\/\/www.kenleeservices.com\/wp-content\/uploads\/2020\/07\/Kenlee_Services_Round2_Edit-2-2048x844.jpg 2048w"}},{"beforeImage":{"src":"https:\/\/www.kenleeservices.com\/wp-content\/uploads\/2020\/07\/a-mocking-home-3-edited.jpg","srcset":"https:\/\/www.kenleeservices.com\/wp-content\/uploads\/2020\/07\/a-mocking-home-3-edited.jpg 1024w, https:\/\/www.kenleeservices.com\/wp-content\/uploads\/2020\/07\/a-mocking-home-3-edited-300x225.jpg 300w, https:\/\/www.kenleeservices.com\/wp-content\/uploads\/2020\/07\/a-mocking-home-3-edited-768x576.jpg 768w"},"afterImage":{"src":"https:\/\/www.kenleeservices.com\/wp-content\/uploads\/2020\/07\/a-mocking-home-10-edited.jpg","srcset":"https:\/\/www.kenleeservices.com\/wp-content\/uploads\/2020\/07\/a-mocking-home-10-edited.jpg 1210w, https:\/\/www.kenleeservices.com\/wp-content\/uploads\/2020\/07\/a-mocking-home-10-edited-300x225.jpg 300w, https:\/\/www.kenleeservices.com\/wp-content\/uploads\/2020\/07\/a-mocking-home-10-edited-1024x768.jpg 1024w, https:\/\/www.kenleeservices.com\/wp-content\/uploads\/2020\/07\/a-mocking-home-10-edited-768x576.jpg 768w"}},{"beforeImage":{"src":"https:\/\/www.kenleeservices.com\/wp-content\/uploads\/2020\/07\/a-mocking-home-12-edited.jpg","srcset":"https:\/\/www.kenleeservices.com\/wp-content\/uploads\/2020\/07\/a-mocking-home-12-edited.jpg 1210w, https:\/\/www.kenleeservices.com\/wp-content\/uploads\/2020\/07\/a-mocking-home-12-edited-300x225.jpg 300w, https:\/\/www.kenleeservices.com\/wp-content\/uploads\/2020\/07\/a-mocking-home-12-edited-1024x768.jpg 1024w, https:\/\/www.kenleeservices.com\/wp-content\/uploads\/2020\/07\/a-mocking-home-12-edited-768x576.jpg 768w"},"afterImage":{"src":"https:\/\/www.kenleeservices.com\/wp-content\/uploads\/2020\/07\/Kenlee_Services_Round2_Edit-8-scaled.jpg","srcset":"https:\/\/www.kenleeservices.com\/wp-content\/uploads\/2020\/07\/Kenlee_Services_Round2_Edit-8-scaled.jpg 2560w, https:\/\/www.kenleeservices.com\/wp-content\/uploads\/2020\/07\/Kenlee_Services_Round2_Edit-8-300x117.jpg 300w, https:\/\/www.kenleeservices.com\/wp-content\/uploads\/2020\/07\/Kenlee_Services_Round2_Edit-8-1024x400.jpg 1024w, https:\/\/www.kenleeservices.com\/wp-content\/uploads\/2020\/07\/Kenlee_Services_Round2_Edit-8-150x59.jpg 150w, https:\/\/www.kenleeservices.com\/wp-content\/uploads\/2020\/07\/Kenlee_Services_Round2_Edit-8-768x300.jpg 768w, https:\/\/www.kenleeservices.com\/wp-content\/uploads\/2020\/07\/Kenlee_Services_Round2_Edit-8-1536x600.jpg 1536w, https:\/\/www.kenleeservices.com\/wp-content\/uploads\/2020\/07\/Kenlee_Services_Round2_Edit-8-2048x800.jpg 2048w"}},{"beforeImage":{"src":"https:\/\/www.kenleeservices.com\/wp-content\/uploads\/2020\/07\/a-mocking-home-17-edited.jpg","srcset":"https:\/\/www.kenleeservices.com\/wp-content\/uploads\/2020\/07\/a-mocking-home-17-edited.jpg 1210w, https:\/\/www.kenleeservices.com\/wp-content\/uploads\/2020\/07\/a-mocking-home-17-edited-300x225.jpg 300w, https:\/\/www.kenleeservices.com\/wp-content\/uploads\/2020\/07\/a-mocking-home-17-edited-1024x768.jpg 1024w, https:\/\/www.kenleeservices.com\/wp-content\/uploads\/2020\/07\/a-mocking-home-17-edited-768x576.jpg 768w"},"afterImage":{"src":"https:\/\/www.kenleeservices.com\/wp-content\/uploads\/2020\/07\/Kenlee_Services_Round2_Edit-6-scaled.jpg","srcset":"https:\/\/www.kenleeservices.com\/wp-content\/uploads\/2020\/07\/Kenlee_Services_Round2_Edit-6-scaled.jpg 2560w, https:\/\/www.kenleeservices.com\/wp-content\/uploads\/2020\/07\/Kenlee_Services_Round2_Edit-6-300x107.jpg 300w, https:\/\/www.kenleeservices.com\/wp-content\/uploads\/2020\/07\/Kenlee_Services_Round2_Edit-6-1024x367.jpg 1024w, https:\/\/www.kenleeservices.com\/wp-content\/uploads\/2020\/07\/Kenlee_Services_Round2_Edit-6-150x54.jpg 150w, https:\/\/www.kenleeservices.com\/wp-content\/uploads\/2020\/07\/Kenlee_Services_Round2_Edit-6-768x275.jpg 768w, https:\/\/www.kenleeservices.com\/wp-content\/uploads\/2020\/07\/Kenlee_Services_Round2_Edit-6-1536x550.jpg 1536w, https:\/\/www.kenleeservices.com\/wp-content\/uploads\/2020\/07\/Kenlee_Services_Round2_Edit-6-2048x733.jpg 2048w"}},{"beforeImage":{"src":"https:\/\/www.kenleeservices.com\/wp-content\/uploads\/2020\/07\/a-mocking-home-14-edited.jpg","srcset":"https:\/\/www.kenleeservices.com\/wp-content\/uploads\/2020\/07\/a-mocking-home-14-edited.jpg 1210w, https:\/\/www.kenleeservices.com\/wp-content\/uploads\/2020\/07\/a-mocking-home-14-edited-300x225.jpg 300w, https:\/\/www.kenleeservices.com\/wp-content\/uploads\/2020\/07\/a-mocking-home-14-edited-1024x768.jpg 1024w, https:\/\/www.kenleeservices.com\/wp-content\/uploads\/2020\/07\/a-mocking-home-14-edited-768x576.jpg 768w"},"afterImage":{"src":"https:\/\/www.kenleeservices.com\/wp-content\/uploads\/2020\/07\/Kenlee_Services_Round2_Edit-7-scaled.jpg","srcset":"https:\/\/www.kenleeservices.com\/wp-content\/uploads\/2020\/07\/Kenlee_Services_Round2_Edit-7-scaled.jpg 2560w, https:\/\/www.kenleeservices.com\/wp-content\/uploads\/2020\/07\/Kenlee_Services_Round2_Edit-7-300x149.jpg 300w, https:\/\/www.kenleeservices.com\/wp-content\/uploads\/2020\/07\/Kenlee_Services_Round2_Edit-7-1024x507.jpg 1024w, https:\/\/www.kenleeservices.com\/wp-content\/uploads\/2020\/07\/Kenlee_Services_Round2_Edit-7-150x74.jpg 150w, https:\/\/www.kenleeservices.com\/wp-content\/uploads\/2020\/07\/Kenlee_Services_Round2_Edit-7-768x380.jpg 768w, https:\/\/www.kenleeservices.com\/wp-content\/uploads\/2020\/07\/Kenlee_Services_Round2_Edit-7-1536x761.jpg 1536w, https:\/\/www.kenleeservices.com\/wp-content\/uploads\/2020\/07\/Kenlee_Services_Round2_Edit-7-2048x1014.jpg 2048w"}},{"beforeImage":{"src":"https:\/\/www.kenleeservices.com\/wp-content\/uploads\/2020\/07\/a-mocking-home-16-edited.jpg","srcset":"https:\/\/www.kenleeservices.com\/wp-content\/uploads\/2020\/07\/a-mocking-home-16-edited.jpg 1210w, https:\/\/www.kenleeservices.com\/wp-content\/uploads\/2020\/07\/a-mocking-home-16-edited-300x225.jpg 300w, https:\/\/www.kenleeservices.com\/wp-content\/uploads\/2020\/07\/a-mocking-home-16-edited-1024x768.jpg 1024w, https:\/\/www.kenleeservices.com\/wp-content\/uploads\/2020\/07\/a-mocking-home-16-edited-768x576.jpg 768w"},"afterImage":{"src":"https:\/\/www.kenleeservices.com\/wp-content\/uploads\/2020\/07\/Kenlee_Services_Round2_Edit-5-scaled.jpg","srcset":"https:\/\/www.kenleeservices.com\/wp-content\/uploads\/2020\/07\/Kenlee_Services_Round2_Edit-5-scaled.jpg 2560w, https:\/\/www.kenleeservices.com\/wp-content\/uploads\/2020\/07\/Kenlee_Services_Round2_Edit-5-300x103.jpg 300w, https:\/\/www.kenleeservices.com\/wp-content\/uploads\/2020\/07\/Kenlee_Services_Round2_Edit-5-1024x353.jpg 1024w, https:\/\/www.kenleeservices.com\/wp-content\/uploads\/2020\/07\/Kenlee_Services_Round2_Edit-5-150x52.jpg 150w, https:\/\/www.kenleeservices.com\/wp-content\/uploads\/2020\/07\/Kenlee_Services_Round2_Edit-5-768x265.jpg 768w, https:\/\/www.kenleeservices.com\/wp-content\/uploads\/2020\/07\/Kenlee_Services_Round2_Edit-5-1536x529.jpg 1536w, https:\/\/www.kenleeservices.com\/wp-content\/uploads\/2020\/07\/Kenlee_Services_Round2_Edit-5-2048x706.jpg 2048w"}},{"beforeImage":{"src":"https:\/\/www.kenleeservices.com\/wp-content\/uploads\/2020\/07\/a-mocking-home-7-edited.jpg","srcset":"https:\/\/www.kenleeservices.com\/wp-content\/uploads\/2020\/07\/a-mocking-home-7-edited.jpg 1024w, https:\/\/www.kenleeservices.com\/wp-content\/uploads\/2020\/07\/a-mocking-home-7-edited-300x225.jpg 300w, https:\/\/www.kenleeservices.com\/wp-content\/uploads\/2020\/07\/a-mocking-home-7-edited-768x576.jpg 768w"},"afterImage":{"src":"https:\/\/www.kenleeservices.com\/wp-content\/uploads\/2020\/07\/Kenlee_Services_Round2_Edit-3-scaled.jpg","srcset":"https:\/\/www.kenleeservices.com\/wp-content\/uploads\/2020\/07\/Kenlee_Services_Round2_Edit-3-scaled.jpg 2560w, https:\/\/www.kenleeservices.com\/wp-content\/uploads\/2020\/07\/Kenlee_Services_Round2_Edit-3-300x108.jpg 300w, https:\/\/www.kenleeservices.com\/wp-content\/uploads\/2020\/07\/Kenlee_Services_Round2_Edit-3-1024x369.jpg 1024w, https:\/\/www.kenleeservices.com\/wp-content\/uploads\/2020\/07\/Kenlee_Services_Round2_Edit-3-150x54.jpg 150w, https:\/\/www.kenleeservices.com\/wp-content\/uploads\/2020\/07\/Kenlee_Services_Round2_Edit-3-768x277.jpg 768w, https:\/\/www.kenleeservices.com\/wp-content\/uploads\/2020\/07\/Kenlee_Services_Round2_Edit-3-1536x554.jpg 1536w, https:\/\/www.kenleeservices.com\/wp-content\/uploads\/2020\/07\/Kenlee_Services_Round2_Edit-3-2048x739.jpg 2048w"}}]